Top Irish dancers set for world championships in Belfast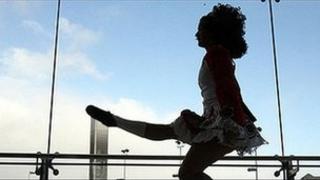 The World Irish Dancing Championships are to be held in Belfast for the fourth time in 12 years.
The week-long event, expected to attract more than 20,000 visitors from around the world, begins at Belfast's Waterfront Hall on Saturday 31 March.
Three separate stages, in the Waterfront auditorium, the Studio and at St George's Market will be in use over three days of intense competition.
Competitors and supporters will be kept up to date via links from the stages.
Exciting time
Launching the event at the aterfront on Monday, Belfast Mayor Niall O Donnghaile said: "This is one of the events that is making 2012 special in Belfast, the final weekend coincides with the beginning of the Titanic Festival and it kicks off a really exciting time for the city.
"We are on the global map for our continued success in hosting world class events, like the MTV Awards and the Oireachtas Rince na Cruinne.
"The fact that the championships have come back to us four times in 12 years proves the excellent support the organisers, competitors and supporters receive here in terms of welcome, facilities and attractions."
During the week visitors will have the opportunity to enjoy ceilis, concerts, language classes and music lessons.