Tyrone cabbie may not drive again after robbery ordeal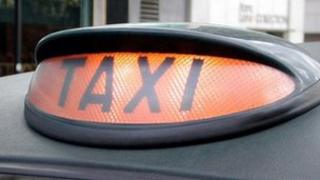 A County Tyrone taxi driver has said he may never get behind the wheel of a cab again after he was robbed and his vehicle burned out.
The Newtownstewart man, who asked not to be identified, said the vehicle had been worth about £19,000.
He said he had picked up two men near Castle Brae, Omagh, on Saturday at 22.30 GMT.
On the way to Draperstown, they put an object to his neck, robbed him of his takings and wallet, and burned his cab.
The driver said he was driving towards Castle Brae when he was flagged down by two men who said they wanted to go to Plumbridge.
After paying the fare at Plumbridge, they then asked him to take them to Draperstown.
"About a mile out of Draperstown, somebody in the back stuck something to the back of my head and said hand over the money," he said.
"I thought it was a gun, but it could have been a knife or anything.
"I was just waiting for them to shoot me or stab me in the back of the neck."
As well as his takings, the men also took the driver's wallet before telling him to stop, get out of the car and run.
He said he could not run for a while because he "sort of froze".
"But I got up the road a good bit and I just seen the flames. They had lit the inside of her," he said.
The man, who has not been able to work since the incident, said he did not think he could return to driving a cab.
"I don't think I would ever do it again. I would be scared of lifting anybody again. You would be thinking about that all the time," he said.
"I'll have to look about for something else."