Paper publishes list of boys burnt out of orphanage in 1922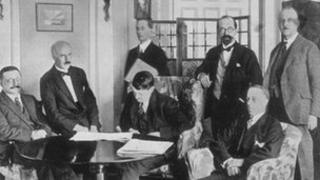 The names of Protestant orphan boys burnt out of their residential home in Connemara during the Irish Civil War have been published for the first time.
The orphanage at Ballyconree, Clifden, was burned down by anti-Treaty republican forces in July 1922 for allegedly teaching the boys to be "pro-British".
The war, which raged from 1921 to 1923, had been sparked by conflicting attitudes to the Anglo-Irish Treaty which lead to the creation of the Irish Free State.
According to a report in The Irish Times newspaper on Monday, the Royal Navy dispatched a boat to Galway to remove 33 boys and the staff to safety in London.
A list has now emerged of the names of 21 of the boys - aged between five and 16 - who were briefly taken into care by Barnardo's in London in October 1922.
It followed a brief spell in a Salvation Army hostel in west London and then a care home in Kensington.
The Irish Times' report revealed that following a media appeal, an unknown benefactor offered to pay their passage to Australia.
According to media accounts, 23 Irish boys headed to Sydney, and were placed in a care facility, others were assigned to farming families and fostered.
The fate of the other boys remains unknown.
Meanwhile, what happened to the female inmates of the Protestant girls' orphanage at Clifden is also unknown.
Their building was not attacked, but the British authorities evacuated it for the safety of the girls and staff.