McAdam Design gets contract for Belfast city centre plan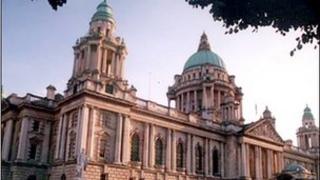 Social Development Minister Nelson McCausland, has announced that McAdam Design has been appointed to develop proposals for the public areas around City Hall in Belfast.
The estimated cost of the design contract for phase two of the Belfast Streets Ahead programme is £900,000.
Mr McCausland said he would set up a stakeholder group to advise the design team on the key elements for the area.
He said a design would be submitted for planning approval by 2013.
"Today's announcement starts the process of engaging with key stakeholders and the general public about the high specification public realm that we want to create around our city hall," he said.
"Following the successful completion of the improvement of the 14 streets in the main shopping area, we now have an opportunity to build on this by presenting Belfast City Hall as the jewel in the crown.
"One of the exciting opportunities includes getting a better balance between buses and pedestrians in the area, which ultimately could lead to the removal of buses from around the city hall or alternatively not having them continually parked in the area but simply dropping passengers off and collecting them.
"This project will also be closely integrated with the emerging rapid transport proposals for the city centre.
"Belfast has undergone a remarkable transformation in recent years, it is important that we continue to build on the good work already completed during phase one of The Belfast Streets Ahead programme."