Belfast carjacking accused 'slashed motorist'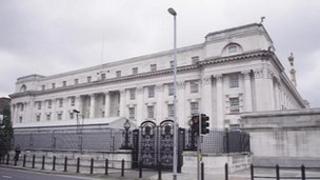 A man was slashed with a knife as he fought off a would-be carjacker in Belfast city centre, a court has heard.
The victim was cut on the hand during the struggle for control of his BMW, prosecutors said.
It was also alleged the attacker later tried to run down an investigating police officer after being spotted in another stolen vehicle.
Gerard Donnegan, 30, faces 12 charges including attempted hijacking, assault and possession of an offensive weapon.
Mr Donnegan, of McDonnell Street, Belfast, is further accused of aggravated vehicle taking, conspiracy to rob, driving while unfit, assault on police, obstructing police and attempted grievous bodily harm.
During a failed High Court application for bail to attend his grandmother's funeral, the court heard how the BMW owner was threatened and ordered out of the vehicle at a car park on Chichester Street last August.
Philip Henry, prosecuting, claimed: "The injured party then became involved in a struggle with this applicant and the injured party sustained a laceration to his hand, requiring five stitches as a result of the use of a knife."
'DNA on clothing'
The man who attempted the hijacking then fled to the nearby Victoria Centre where he was captured on CCTV abandoning his top and the knife, the court was told.
Mr Donnegan's DNA was said to have been found on the recovered clothing, while fingerprint analysis of the knife remains incomplete.
It was claimed that an investigating policeman spotted him the following day in another car at Finaghy Road South in the city.
Mr Henry said the officer stood in front of the vehicle, but had to dive out of the way when an attempt was made to run him over.
Mr Donnegan was said to have abused drink and drugs for years.
His barrister stressed that he is now receiving medical help and only seeking temporary release to go to the funeral while under family supervision.
Conor Maguire contended: "He will not have the opportunity to offend, being out for such a short period of time."
But Mr Justice McCloskey ruled that the assurances being given were not enough to ease concerns.
Refusing the application, the judge said: "I consider if compassionate bail were to be granted there is a very high risk of re-offending.
"Such re-offending could entail very serious risk of harm to the public, including death."