Machete found inside youth's jacket in Ballymena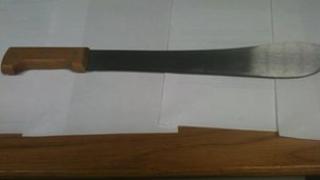 A machete has been recovered by police following the search of a 17-year-old boy in County Antrim.
It was found inside the teenager's jacket in the Cushendall Road area of Ballymena on Monday night.
The police said the youth would be formally interviewed at a later date.
A picture of the knife was posted on the social networking site, Facebook, in what police said was a warning to others about the dangers of knives.
Inspector Pete Bouma said knife crime was not as major an issue in Ballymena as in other parts of the UK, but they were not complacent about it.
"The message is simple: Knives take lives, never carry a knife," he said.
"Carrying a knife in a public place is an offence and police will stop and search anyone they believe to be in possession of one.
"We posted this photo on our Facebook site to warn those who might consider carrying such a weapon that local police proactively carry out searches and you stand a strong chance of getting caught."
He said some young people thought carrying a knife was "a status symbol, something that makes them more acceptable to their peers".
"For some, it is seen as a form of protection, but nothing can protect them from the consequences of carrying or using a knife.
"The fact is that knives are dangerous - people get hurt and lives and communities can be ruined.
"We need the support of everyone within our local communities to stop the issue of knife crime. Quite simply, knife crime is unacceptable."