Cost of fuel in Northern Ireland to be debated at Westminster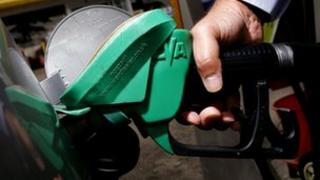 The cost of fuel in Northern Ireland is to be debated in Westminster Hall later.
The debate was secured by SDLP MP Margaret Ritchie.
"In December 2011 and January 2012, customers in Northern Ireland paid the highest price for diesel in the whole of Europe," she said.
"When you combine spiralling fuel costs with the higher cost of car insurance in NI, you see a staggering inequality which cannot continue."
Ms Ritchie has also supported calls for an Office of Fair Trading (OFT) investigation into the pricing of fuel in Northern Ireland.
"We consistently pay higher prices for petrol and diesel than any other region in the UK and Ireland," she said.
"When both motorists' groups and petrol retailers are coming together to speak with one voice and ask the OFT to investigate how fuel pricing here is operating, we know this is a problem worth tackling."
The debate is scheduled to take place at 16:30 GMT.