Irish government's 3bn euros sale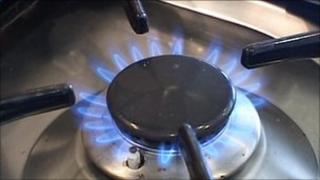 The Irish government has revealed plans to sell off 3bn euros of state assets, including Firmus Energy which supplies gas to Northern Ireland.
Firmus is owned by Irish state company Bord Gais, and supplies gas to about 20,000 homes and businesses across NI.
The Irish government's plan to raise the money is part of its agreement with its funders in Europe and the International Monetary Fund.
Meanwhile, Phoenix Natural Gas's parent company is interested in buying Firmus.
Firmus supplies gas to about 20,000 homes and businesses throughout Northern Ireland and competes with Phoenix, which has a customer base of about 130,000.
Phoenix is owned by private equity giant Terra Firma - the sort of firm that might be able to afford the likely one billion euro plus pricetag for Bord Gais Energy.
David Stahan, the managing director of Phoenix Supply in Northern Ireland, said his owners had expressed a previous interest in Irish government assets and "remained interested".
He said the energy supply business in the Irish Republic would fit well with its existing operations where it currently services some major industrial users.
Aer Lingus
Any sale would create regulatory issues both north and south.
The Northern Ireland Regulator, Shane Lynch, said any sale of Firmus would need to meet the regulatory requirements in Northern Ireland.
Other assets up for sale include a stake in Aer Lingus as well as parts of the Irish forestry service, but not its land.
The energy division of Bord Gais and some parts of ESB, the state electricity company, are all likely to go up for sale.
ESB owns the electricity network in Northern Ireland and Coolkeeragh power station.
The network is not affected but Coolkeeragh may be.
And Bord Gais also owns the gas transmission pipelines to the northwest and south which are not affected, but the distribution network to the 10 towns feeding off those pipelines is part of the likely sale.
The sale of the government's stake in Aer Lingus and part of the forestry company Coillte will be considered when the time is right.
The aim is to release up to 3bn euros which would be used to invest in job creation and to write down debts.