Ballysillan Road bomb alert 'elaborate hoax'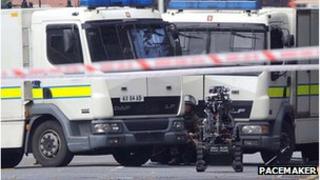 A bomb alert in north Belfast has ended and been declared an elaborate hoax.
Army bomb experts examined a suspicious object in the Ballysillan Road area on Wednesday morning.
Chief Inspector Andrew Freeburn said: "This was a mindless act and clearly designed to cause maximum disruption and distress at rush hour.
"My officers had to quickly divert school children away from this suspect device and close surrounding roads."
He said this had delayed school buses and parents leaving their children off to school.
"The children were understandably very scared and left standing in the rain for a period of time and I want to sincerely thank the staff of Our Lady of Mercy School who assisted in quickly getting the children in to school safely," he added.
"We also had to evacuated a small number of homes and would thank the local residents for their patience and understanding."
He said the incident would be "rigorously investigated" and appealed for witnesses.