2011 elections - report critical of ballot count delays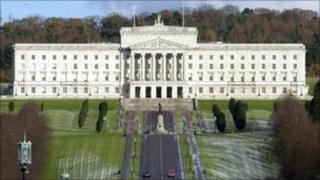 The NI Electoral Commission has said it is "regrettable" that the result of the 2011 elections lagged four hours behind the rest of the UK.
A lack of planning led to delays in counting ballots during the 2011 Northern Ireland Assembly elections, the commission's report said.
It praised planning for polling day, but said difficulties at the actual counts should be addressed.
Assembly, local council elections and a UK referendum were all on the same day.
The commission noted that verifying three sets of ballot papers simultaneously before counting began, led to significant delays in announcing turn-out and first preference votes.
Other factors that had an impact on the speed of the count included staff failing to turn up at some count ventures and the poor quality of paperwork returned by many presiding officers.
"There was also evidence of inconsistent practice and the lack of an overall plan for the assembly and referendum counts," the report said.
The Electoral Commission also noted some confusion on polling day resulting in a number of voters being unable to distinguish between the assembly and local council ballot papers.
Among its recommendations were that the accountability of the Chief Electoral Office needed to be improved.