Magherafelt driver who killed friend jailed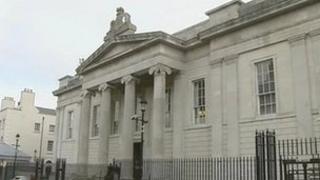 A Magherafelt motorist who caused the death of his best friend when he crashed into a field has been sentenced to three years imprisonment.
Alan Forsythe, 22, from Maghadone Road was one and a half times over the limit when he crashed in September 2009.
His best friend Lee McFaul, 20, from Desertmartin, was thrown from the car and suffered fatal head injuries.
Forsythe pleaded guilty to causing death by careless driving with excess alcohol.
He also admitted causing death while driving without insurance.
At Londonderry Magistrates Court, Judge Piers Grant told Forsythe he had caused lifelong anguish and grief to the McFaul family for what he called their irreplaceable loss.
Forsythe will spend half of the three year sentence in custody and half on licence.