Randox and University of Ulster develop arthritis test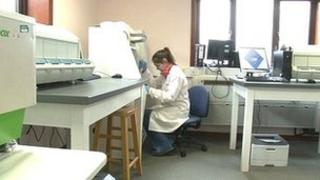 A County Antrim company and the University of Ulster are co-operating on a £1m project which could help treat those suffering from arthritis.
They are developing a test which allows patients to determine which drugs do or don't work for rheumatoid arthritis.
Randox is providing £500,000 towards the project, while a further £500,000 is being provided by the Technology Strategy Board.
The majority of that will go to the University of Ulster.
Speaking at the funding announcement, Health Minister Edwin Poots said: "This funding will develop the world's first test to quickly identify the most appropriate treatment for individual rheumatoid arthritis patients.
"There is no test anywhere else in the world that allows us to identify patients who will respond to treatment and this puts us right at the forefront of research in this area.
"Put simply, it means patients will have access to the correct treatment much earlier, we make better use of drugs and it will boost the local economy."