Daniel Coulter charged over hijack attempt in Belfast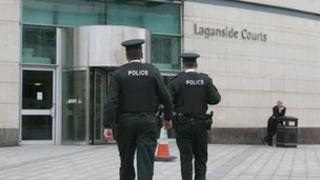 A teenager charged with an attempted carjacking has been remanded in custody.
Daniel Coulter, 19, was accused in connection with a bid to steal a Peugeot 407 from a motorist at Hopewell Place in Belfast.
The victim was assaulted and allegedly threatened by three men who ordered him out of his car on 12 January.
When he refused, the attackers were said to have fled, taking the keys to the vehicle.
Mr Coulter, of Malvern Way, Befast, was arrested by police from a specialist taskforce set up to deal with a spate of incidents.
He faces charges of attempted hijacking, assault, and possession of an offensive weapon, namely a screwdriver.
Mr Coulter is also accused of criminal damage to the car windows and theft of a mobile phone and set of keys.
A police officer told Belfast Magistrates' Court he could connect Mr Coulter with the alleged offences.
District Judge Fiona Bagnall refused bail pending further enquiries in connection with the incident.
Mr Coulter was remanded in custody to appear again by video-link next week.