Alex Attwood to set out plan to ban NI politicians' double-jobbing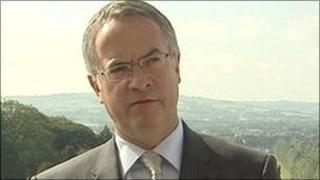 Environment Minister Alex Attwood is to spell out plans to ban double-jobbing between the council and the assembly.
Thirty MLAs currently also sit on councils, although Sinn Fein MLA Willie Clarke is to quit the assembly.
Mr Attwood is set to tell a conference on Thursday that the practice will be legally banned in the assembly by 2015.
It is thought in the meantime he will cut councillors' allowances by two-thirds if they are also an MLA, MP, a member of the House of Lords or an MEP.
At present, the basic allowance for councillors is under £10,000.
This follows a consultation on the issue last autumn, the results of which have not yet been published.
The minister has the power to reduce the pay by regulation and is expected to issue the directive in the next few weeks. It is set to be in operation by April.
He requires executive approval for an outright ban on double-jobbing and a well-placed source claimed he had obtained this.
The ban, said the source, would be included in a local government reorganisation bill to be tabled in the autumn.
There was an attempt in the last assembly to ban the practice of dual mandates.
But the private members' bill, tabled by independent MLA, Dawn Purvis, was blocked by the DUP.
Mr Attwood is due to deliver a wide-ranging address to the Northern Ireland Local Government Association on Thursday in Templepatrick.
He is also expected to deliver a tough message that he wants councils to step up efforts to deliver almost £600m in savings by sharing services.