What now for supergrass system?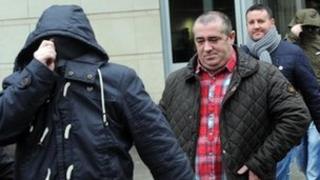 Robert and Ian Stewart have left Northern Ireland and are now leading secret lives.
They've been given new names and legal protection banning the publication of any details that could reveal their new identities or where they live.
The self-confessed UVF members walked into Antrim police station in 2008 and admitted their involvement in the murder of leading UDA member Tommy English eight years earlier.
They also agreed to give evidence against nine other men charged with the killing.
Their evidence was the foundation for the first so-called supergrass trial to be held in Northern Ireland for 26 years.
It was made possible by legislation introduced throughout the UK seven years ago.
The Serious Organised Crime and Police Act means someone accused of committing a crime can enter into a written agreement to become what's called an assisting offender and help the prosecution by giving evidence against other alleged criminals.
Offenders have to come clean and admit every crime they've been involved in. between them, Robert and Ian Stewart admitted more than 100 crimes.
They also took part in more than 300 police interviews, which produced thousands of pages of material that was used by prosecution lawyers.
At the end of their trial last year, they were told they would normally have been sentenced to more than 20 years for their crimes - but the judge reduced that to just three years in recognition of the help they gave.
It wasn't just the 13 men in the dock who were on trial as a result of their evidence - it was also the legislation that put them there.
Critics say it encourages criminals to lie and point the finger of blame at others in return for a reduced sentence.
Supporters say it's legally safe and a potent weapon against crime.
Acquitting 12 men of terrorist charges on Wednesday - nine were cleared of murder - Mr Justice Gillen said he could not rely on their evidence.
The judge said telling lies had become part of the daily diet of living for Robert and Ian Stewart - and that they had lied to the police and the court.
But the judge made it clear that his problem was with credibility of the witnesses - not the legislation that formed the basis for the case.
Mr Justice Gillen said his judgement should not be seen as criticism of the use of accomplice evidence.
He also said the fact that he had not been able to convict those charged in this trial, "does not preclude the possibility of guilty verdicts in other similar cases where less flawed witnesses are called to give evidence".
The judge's demolition of the witnesses in this case is a major embarrassment for the police and the public prosecution service.
But they'll take comfort from the fact that the judge criticised the witnesses and not the legislation.
It won't be long before the system is tested in the courts again.
Another so-called supergrass trial is due to get under way later this year based on the evidence of a self-confessed UVF leader.
Dozens of loyalist paramilitaries could be in the dock charged with a range of terrorist offences, including murder.