Stormont pressed to tackle NI's economic woes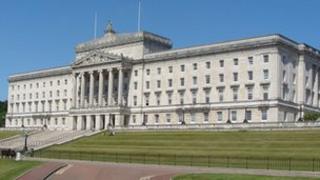 The Stormont executive must do more to tackle Northern Ireland's economic problems, according to the Irish Congress of Trade Unions.
It made the comments as the consultation period on the draft Programme for Government ended.
More than 350 organisations submitted their assessments.
The Office of the First Minister and Deputy First Ministers said it had been struck by the breadth of topics and depth of discussions.
ICTU said the executive must seek out alternative forms of investment in the face of Treasury cuts if Northern Ireland is to escape years of unemployment and stagnation.
It welcomed the continued investment in schools and hospitals but it claimed the executive's plans lacked ambition.
While it acknowledged that £4bn in cuts were being driven by Westminster, ICTU questioned whether the level of investment being planned would be enough to counteract the damage.
It also repeated its concerns that the pledge of 25,000 jobs would satisfy the growing demand for employment, when 20,000 school leavers enter the labour market each year.
ICTU complained that the commitment to achieve £300m, in foreign investment was cautious, as was the target on research and development.
It suggested seeking alternative investment through schemes such as borrowing by councils.
The Northern Ireland Council for Voluntary Action, (NICVA), also responded to the plan.
'Long-term process'
Seamus McAleavey from NICVA said there was not enough detail in the document and people found it difficult to understand what the executive was likely to achieve.
He added: "It's good that the executive put a draft Programme for Government out for consultation, many governments don't do that.
"A consultation on a Programme for Government is not something in isolation. Organisations, like ours, have been discussing a lot of these issues much earlier in the process, so we are trying to influence them for change.
"So, for us, it's a long-term process."
A spokesperson for the Office of the First Minister and Deputy First Minister said there had been a significant number of meetings about the plan.
"The purpose of the consultation was to ensure that everyone had the opportunity to share their views on the proposals and we have been struck by the breadth of topics and depth of discussions that we have encountered.
"Our Programme for Government is, by its very nature, broad ranging and touches on all areas of society, and the message that we have taken from the consultation is that there is an appetite for involvement, at all levels, in helping the executive to deliver on its stated priorities. "