Images of suspected carjackers released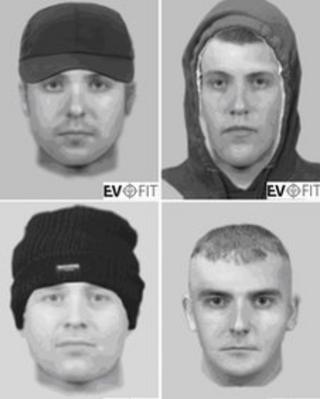 The police have released images of four men they wish to speak to in relation to recent carjackings in Belfast.
A new dedicated enquiry phone line has also been established for those with information about car crime.
The line, which can be called on 0800 0281111, will be manned 24 hours a day.
"Our investigations into a number of incidents are now at a stage where we require further assistance from the public," said Detective Chief Inspector Alan Little.
"We have therefore released four evofits, which are images constructed by police artists and we are issuing details relating to four vehicles."
There have been at least 16 carjackings in the greater Belfast area since the beginning of the year. There have also been seven attempted hijackings.
The thefts happened after drivers, often women, were threatened and forced to hand over their keys. The cars were sometimes found burnt out.
The police said in recent weeks they had arrested 18 individuals for car crime offences and six people have been charged.
In addition there have been 17 proactive searches carried out.
The new phone line has been backed by the support group, Families Bereaved Through Car Crime.
Tommy Holland, who lost his cousin to carjacking, said: "This appeal is about the people injured and left traumatised after they have been dragged and beaten out of their cars.
"This is about the ordinary family wanting to know they are safe while driving to work, school or even going shopping and that their children will be safe playing on their own streets.
"So, before someone is seriously injured or killed we call on the community to help stop this form of car crime now and use the dedicated enquiry line and support the groups and agencies trying to end this."
In addition to the four evofits, police have also released details of three cars that have not been retrieved after they were stolen.
They are a grey Honda CRV - registration BEZ 5155, a blue Renault Megane - registration AEZ 2359, and a blue Volkswagen Passat - registration XCZ 5540.