Quinn family wins Dublin ruling to continue Anglo battle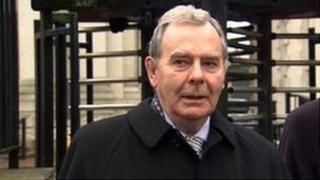 The High Court in Dublin has ruled that the family of Fermanagh-born businessman Sean Quinn can continue with their legal battle against the Irish Bank Resolution Corporation (IBRC).
Mr Justice Peter Charleton gave his ruling on a preliminary issue in the family's case against the former Anglo Irish bank.
The Quinn family alleges that Anglo lent them more than £2bn for the illegal purpose of propping up its own share price.
The court ruled that Patricia Quinn and the couple's five children were entitled to make arguments that the IBRC breached market abuse regulations and company legislation in its loans to the family, in their action against the bank.
The judge said it would be contrary to public policy were the Quinns to be shut out from responding to the "flagrant illegality" they allege against IBRC.
He said if a series of financial transactions can be called "horrific" that epithet would apply to the allegations made by the Quinns against the bank and Mr Quinn.
The main action being taken by the Quinn family against the bank is due to be heard at a later date.
In a statement, the Quinn family said they were very pleased with the outcome of Thursday's judgment.
''The family welcome the opportunity to present their case to the High Court in the fullest possible way. The outcome of today will permit us to do so,'' it said.