Belfast City Council to make venues tackle fly-posting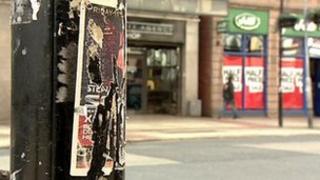 Belfast City Council is set to make entertainment venues responsible for removing fly-posters in the city.
The licensing committee has approved plans which would see conditions on fly-posting attached to entertainment licences issued to pubs and clubs.
The venue would be required to ensure that fly-posting was not used to advertise the premises and to remove any fly-posters which did go up.
The committee's decision will come before the full council on 1 March.
Fly-posting is the illegal posting of adverts or posters to promote events, and the council argues that it causes an area to look run down and encourages other related anti-social behaviour.
Currently, council staff remove or paint over the posters.
Now, the council plan to attach conditions about fly-posting to every entertainments licence they issue to pubs, clubs and venues in Belfast.
Pubs and clubs will be required to take steps to ensure fly-posting is not used to advertise the venue, and to ensure that promoters and entertainers do not use fly-posting to advertise events there.
If fly-posters for a venue do go up, the council will also be able to demand that the venue removes them within two days.
The council is also considering plans for legal advertising sites for posters which advertise events.
These sites could take the form of specific areas in parks or on city streets where posters could be displayed.
Under new legislation due to come into effect in April 2012, councils across Northern Ireland will have additional powers to deal with fly-posting, litter, noise and graffiti.