Derry school rape accused banned from Northern Ireland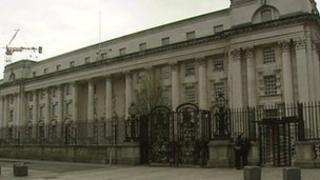 A man charged with raping a 15-year-old girl in the grounds of a Londonderry school must keep out of Northern Ireland, a judge has ruled.
The prohibition was imposed on Adam Titheridge as he was granted bail to live at an address in Kent.
Mr Titheridge, 20, is accused of carrying out a drink and drugs-fuelled sex attack on the girl before rummaging through her bag and then fleeing.
He denies charges of aggravated assault and rape over the July 2011 incident.
Mr Titheridge, of Glenside Gardens, Derry but originally from England, claims they had consensual sex following a chance meeting as she was walking home, the court heard.
But according to the girl he forced her over a wall into the grounds of Foyle and Londonderry College.
Barry Valentine, prosecuting, said she was then allegedly pushed to the ground, pinned down and raped.
At one point Mr Titheridge put his hand over her mouth when she screamed and told her to shut up, it was claimed.
The girl was also said to have suffered a foot injury during the incident.
'Drinking and smoking marijuana'
A taxi driver came to her aid after the accused had left the scene, the court heard.
The court was told Mr Titheridge later told police he had been drinking and smoking marijuana.
Opposing bail, Mr Valentine said the accused only arrived in Northern Ireland three months previously.
Richard McConkey, defending, set out how his client claimed to believe the girl was 18.
"He said it was a consensual act which began with the pair kissing," the barrister said.
Mr McConkey pointed to the accused having spent seven months in custody, adding that an address was available in Kent.
The judge, Mr Justice McLaughlin, held that the English location would ease fears of the alleged victim encountering Titheridge.
"I consider that is a sufficient change of circumstances to permit the release of the accused on bail," he said.
Ordering Mr Titheridge to report daily to police in Kent, Mr Justice McLaughlin added: "He will be prohibited from coming back to Northern Ireland except for court appearances."