Queen's University reports rise in NI cancer survivors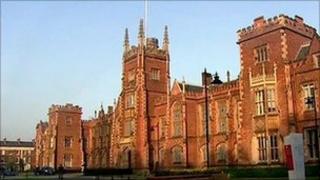 People in Northern Ireland have a greater chance of recovering from cancer than sufferers in some other parts of the UK, according to researchers at Queen's University.
The university is being honoured at Buckingham Palace on Friday.
This is for helping with improvements in cancer survival - with rates for breast and colorectal cancers among the best in the UK.
Breast cancer survival at three years rose from 79% in 1996 to 84% in 2006.
Between 2001 and 2006, one-year survival from oesophageal cancer rose from 32% to 39%, the research found.
Queen's said its patients were benefiting from improved treatment outcomes which are up to 4% better than those for England and Wales.
Professor Patrick Johnston of Queen's said that despite the rising incidence of cancer in NI, the number of people surviving the disease was increasing.
"Between 1993 and 2009, the number of men dying from cancer has gone down by 1.3% and the number of women by 0.9%," he said.
"Some of our survivors are currently alive and well a significant number of years after the kind of cancer that, not so long ago, would have taken them from us.
"Cancer no longer needs to be seen as an inevitable death sentence. In many instances it can now be viewed instead as a chronic disease."
The university will be presented with a Diamond Jubilee Queen's Anniversary Prize at Buckingham Palace.
This is in recognition of its leadership of the Northern Ireland Comprehensive Cancer Services (CCS) programme.
CCS is a collaboration led by Queen's University in partnership with the Department of Health and the five Northern Ireland health trusts with support from the medical research industry.
Queen's University said it had resulted in the reorganisation of cancer services across Northern Ireland and investment of more than £200m for treatment and research by the university and the health service.