Man killed at railway crossing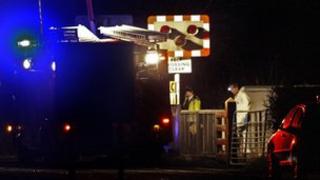 A man has been killed on a railway line in County Antrim.
It is understood he was hit by a train. It happened at a crossing at Balnamore Road north of Ballymoney at about 21:00 GMT on Thursday night.
Police are investigating but his death is not being treated as suspicious.
Paramedics checked passengers on board the train at the time. None of them were injured and no-one was taken to hospital.
On Friday morning, only one service was affected - the 0727 Londonderry to Belfast train. Passengers were bussed between Derry and Coleraine.
Translink said the line has since been re-opened.