Woman terrorised by robbers in priest's home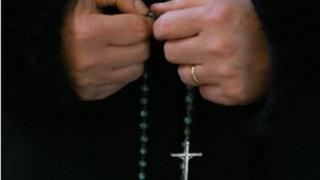 A gang of men have terrorised a woman during a robbery at a parochial house in County Donegal.
The woman, a friend of the local priest, was alone in the parochial house in Burt, when three men burst in.
They warned her that they would use a screwdriver to harm her if she did not reveal the location of the safe.
The gang escaped with more than 2,000 euros in cash and two cheque books. The priest said she feared for her life during the attack on Wednesday.
Fr Gerard Sweeney said: "The guys that broke in dragged her round the house and threatened her with a screwdriver and two large screw nails, about six to seven inches in length. She was terrified.
"When they got to one room (and) they couldn't find the safe they got very aggressive.
"One guy was constantly threatening her, the heaviest of them all. She's scared to go out because of what these men did to her."
Burt is located on the main road between Londonderry and Letterkenny.
The incident is being investigated by the gardai.