Van Morrison in new newspaper privacy bid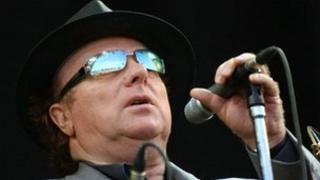 Van Morrison has launched a new legal bid to stop newspaper publication of information allegedly linked to his private life.
The singer is seeking to ban the disclosure of details in journals kept by American businesswoman Gigi Lee.
On Friday, lawyers for Mr Morrison and the defendant, Associated Newspapers, told the High Court in Belfast that they had agreed to an adjournment in the case.
Another hearing was fixed for March.
Ms Lee reportedly died of cancer in a Belfast hospice in 2011 at the age of 44.
She had previously joined Mr Morrison in seeking court protection from media intrusion into their lives.
In April last year an injunction against the now-defunct News of the World was lifted.
That ban was set aside on the condition that the paper did not breach any privacy laws, and gave an undertaking not to publish descriptions or photographs of others linked to the case.
In an affidavit at the time, Mr Morrison set out how he regarded some parts of his life as areas to be kept away from scrutiny or comment.
He stated: "I have made considerable efforts to protect my private life and I have refused to be interviewed about it, to comment on it publicly or to authorise others to do so, save in very limited circumstances when a bare minimum of information is required to prevent or minimise harm from the repeated attempts of others to publish allegations about my private life."