BBC drama follows six freshers starting university in Belfast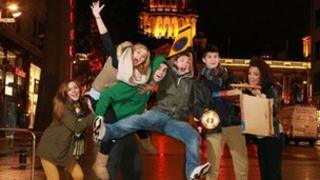 For many young people, starting university can be a daunting experience.
Not only have they determined future job possibilities with their course choice, but it is often the first time they have lived away from home and been left to fend for themselves.
A new BBC Northern Ireland drama follows six students as they embark on this transitional period in their lives.
6Degrees, which has been produced with support from Northern Ireland Screen, was created with a younger audience in mind.
The six-part drama from Stirling productions features six freshers arriving from throughout the United Kingdom and completing their first term at university in NI.
It claims to be a show about relationships, where the students learn invaluable life lessons that cannot be taught through books.
The cast includes Jayne Wisener, known for her roles in Sweeney Todd and the Inbetweeners, and Cillian O'Sullivan, from television series Single-handed.
The programmes also introduce new local acting talent, and come from first-time television writers, Bronagh Taggart, Michael Shannon, Eoin Cleland and Aaron Archer.
Common ground
Ailsa Orr, head of programmes at BBC Northern Ireland, said she was delighted to have the series as part of an original home grown drama season.
"It offers a fascinating insight into student life and some of the important themes and issues relevant to young people today," she said.
"It's also a showcase for some brilliant new acting talent, and has offered an important opportunity for local writers and upcoming production talent.
"We very much hope it will be enjoyed by a whole new generation of BBC Northern Ireland viewers."
Anne Stirling of Stirling Productions, added: "This is a wonderful opportunity for a local company to show that good drama can be made in and about Northern Ireland ".
Jamie Lee O'Donnell, who plays Eva Maguire, compared her own experiences of attending university with those portrayed in the series.
"It is similar in that all different personalities and backgrounds are put together and you do have to find some sort of common ground - even though they are the type of people who you would not normally mix with," she said.
"Obviously for the show, this brings up a lot of interesting relationships.
"There are the initial issues that everyone faces when going to university, such as are they going to make friends, will their course be too overwhelming for them, and within 6Degrees the various cast members had their own baggage that they brought with them."
The show took six weeks to film in locations around Belfast and included a backdrop of real students in many of its scenes.
Ben Peel who plays Eva's friend Justin said the script reflected growing up in Belfast, and its humour.
"It was good to be working with local people and to work in locations around the city," he said.
Cast member Georgia Maguire, who plays the role of Jess Green, hails from London and said that she, and her character, enjoyed coming to Belfast.
"I know not as many people come from England to study in Northern Ireland, but my character wanted to get far away from London," she said.
"Belfast is a great city and there is so much to see and do."
6Degrees begins on BBC Two Northern Ireland on Tuesday, 28 February at 21:30 GMT.