Four arrested after cash-in-transit robbery bid in Portrush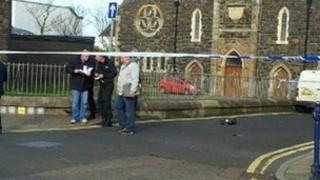 There has been an attempted robbery of a cash-in-transit van near a Northern Bank branch in a County Antrim holiday resort.
Police have confirmed they were investigating a robbery attempt and said four arrests had been made.
The incident took place at Main Street in Portrush on Friday afternoon.
The men currently being questioned about the incident are aged 36, 30, 27 and 22.