James Emmanuel Macnulty jailed for 11 years for child sex abuse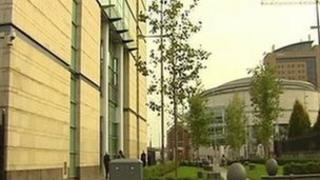 A pensioner who has shown no remorse or regret for sexually assaulting seven girls, one of whom he raped, has been jailed for 11 years.
James Emmanuel Macnulty, 70, of Wellington Park Avenue, Belfast, was convicted in November of a single count of raping one of his victims.
She was said to be about seven-years-old.
He had earlier pleaded guilty to 10 charges of indecent assault and 12 of gross indecency.
All of the charges occurred on various dates between December 1970 and January 1981.
Belfast Judge Tom Burgess said although the accused could die in jail, he had to consider the victims' wellbeing.
"What the court cannot forget is the adverse impact on the wellbeing, both physical and mental, on his victims during the course of his actions and in all the years since then," he said.
"The court is conscious of the concept of mercy, but the defendant's problems fade into insignificance against the consequences of his actions against so many young girls."
'Callous and ruthless'
On Friday, Judge Burgess called the accused "callous and ruthless" and said he had not just forced one victim to give evidence against him, but in applying to the court to have his guilty pleas vacated, the others feared they would have to take the witness box.
Macnulty confessed to some of the activities when he was arrested and interviewed, even going so far as to admit to abusing two unknown victims but denied some of the allegations put to him.
Judge Burgess revealed that in the probation pre-sentence report Macnulty blamed some of his young victims, who are all now grown women.
The judge said "sexual predator" Macnulty had shown a "disgraceful attitude" towards his offending, adding that although some of his victims even blamed themselves: "There's only one person to blame in this court - it is the defendant and no-one else."
He said despite his having suffered three strokes, three heart attacks, numerous black-outs and arthritis, there was nothing shown to him which suggested the pensioner would not receive any medical treatment he would need in prison.
Macnulty was also forced to sign the sex offenders register for the rest of his life and had a 15-year Sexual Offences Prevention Order imposed.