Officer rescues woman from River Lagan in Belfast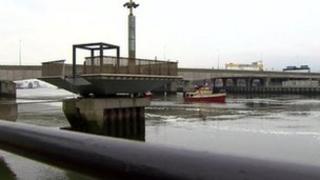 A woman has been rescued from the River Lagan in Belfast by a police officer.
Police received a report of a woman "in distress" in the river near Queen's Bridge at about 21:00 GMT on Thursday.
Believing that the woman was in immediate risk of drowning, an officer entered the water with a life ring and swam out to her.
He held the woman afloat until a fire service rescue boat arrived to bring them both to safety. The woman was then taken to a nearby hospital.