Back again to fight your corner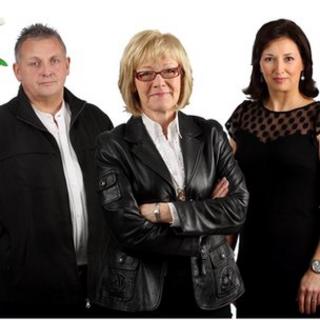 It's back, it's live, it's tackling the issues that matter to local communities and it's In Your Corner.
Wendy Austin and the In Your Corner team return for a new six-part series on BBC One NI starting on Monday, 27 February at 19:30 GMT.
Wendy will be joined again by Claire McCollum, visiting each county in Northern Ireland during the six weeks.
There is also a new face in the team with award-winning reporter Chris Moore investigating issues on behalf of viewers.
The programme will be broadcast live from the heart of communities across Northern Ireland tackling the topics, concerns and problems of local people - no matter how big or how small - whether it's social, health, financial; a personal matter or an issue that's affecting the whole community or the entire country.
In advance
The first stop for In Your Corner, made for BBC Northern Ireland by independent production company, Below The Radar, is the Roe Valley Arts Centre, Limavady, County Londonderry.
Next is Portadown Health Centre, Portadown, County Armagh, on 5 March, followed by Burnavon Theatre, Cookstown, County Tyrone on 12 March.
The programme on Monday, March 19 from The Theatre at The Mill Museum, Newtownabbey, County Antrim will be recorded in advance, on Thursday, 15 March.
Programme five will be live from Waterways Ireland, Enniskillen, County Fermanagh on 26 March with the final programme coming from Tollymore Activity Centre, Bryansford/Newcastle, County Down on 2 April.
Viewers can contact the In Your Corner team if they have an issue they would like investigated - from a minor irritation right through to hard-hitting social topics.
Viewers can email: inyourcorner@bbc.co.uk, follow the programme on Facebook or on Twitter: @BBCInYourCorner and #BBCIYC.