Halt One Direction concert ticket re-sales: SDLP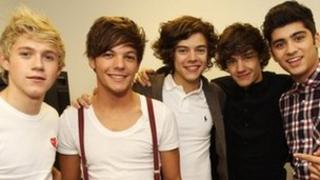 The SDLP's Pat Ramsey has called on Trading Standards to investigate the online re-sale of One Direction concert tickets at inflated prices.
He said tickets for the band's Belfast gig had gone on sale on Saturday morning and been "sold out very quickly".
Mr Ramsey said that within a few hours the tickets were "up for sale on social media sites at exorbitant prices".
He said he been contacted by a number of constituents about the matter.
"This has been extremely disappointing and frustrating for One Directions fans, particularly for parents who had great difficulty purchasing the tickets for their children over the phone and on the Ticketmaster website," the Foyle assembly member said.
"There must be measures put in place to stop ticket sales being abused in this way by people who simply want to make a quick buck from the misfortune of true fans.
"I have written to Trading Standards asking them to investigate this and to try and come up with regulations to crack down on this type of activity."