Sinn Fein gains support in Republic survey suggests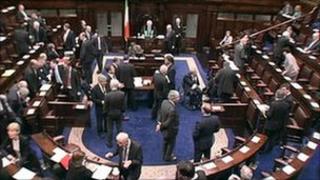 Sinn Fein is gaining support in the Irish Republic at the expense of Fianna Fail, an opinion poll has suggested.
According to the Behaviour and Attitude survey, the party has the backing of 25% of voters, putting it in second place to Fine Gael.
More than 900 people were surveyed between 15-20 February. The poll has a margin error of plus or minus 3.3%
Fine Gael, now at 32%, gained two points, while their Labour coalition partners dipped by 1% to 10%.
The Behaviour and Attitudes opinion poll was carried out for the Sunday Times.
Fianna Fail's support at 16% shows a four-point drop since December.
Independents and others fell by one point and are now at 17%, the poll suggests.