Keep welfare link with rest of UK assembly urged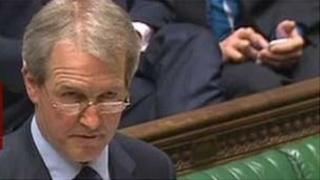 It would be unthinkable for NI to break financial links with the rest of the UK over welfare benefit rates, Secretary of State Owen Paterson has said.
The assembly is due to consider legislation mirroring Westminster's plan to simplify benefits into a new "universal credit".
Mr Paterson said Stormont politicians could negotiate about the details.
He said, however, that the overall principle of parity of welfare payments should be maintained.
Interviewed for BBC Radio Ulster's Inside Politics, he said: "It is absolutely vital to maintain parity.
"It would be really unthinkable for the Northern Ireland Executive to have to create a wholly new welfare system and the IT system to run it.
"That would be a horrendous prospect, but there is very significant flexibility."