Child injured in west Belfast gun attack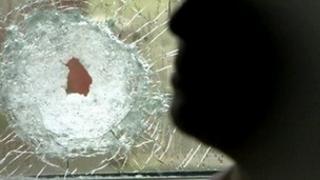 A child suffered cuts from broken glass when shots were fired into a house in west Belfast on Saturday evening, it has emerged.
Two shots were fired into the house at Mill Race at 1840 GMT.
Nine children were in the property. One was hurt when a bullet shattered the kitchen window.
The attack is believed to be part of a feud between members of the travelling community. A woman living in the house said the attack was attempted murder.
Julia Stokes said that she was warned by the police on Friday about a threat to her life.
She added that she believed that the PSNI did not respond adequately because she was a member of the travelling community.
She said she planned to make a complaint to the police ombudsman.
Police have said they are taking the attack seriously and are working to establish a motive for the shooting. Detectives investigating want anyone with information to contact them.