PHA urges 'at risk' groups to get flu vaccine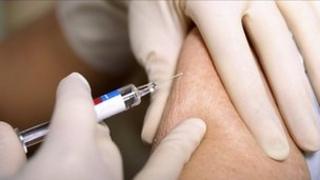 The Public Health Agency (PHA) is urging at-risk groups, especially newly pregnant women, to get the flu vaccine.
Flu rates have been low so far this winter, but there has been a slight rise in recent weeks.
Laboratories are detecting more flu which also suggests that flu viruses are starting to circulate.
The flu strains that have been identified are all covered by this year's flu jab.
The latest figures from the PHA show that people consulting their GP with flu or flu-like illness increased from 16.9 per 100,000 of the population in week four of 2012 to 25.9 per 100,000 in week six.
The figures are much lower than last year's peak of 263.5 per 100,000.
Dr Richard Smithson, consultant in health protection, PHA, said: We have seen a small rise in the number of seasonal flu cases. Receiving the seasonal flu vaccine is the best way to protect yourself and others from getting the virus. So, if you are in an 'at-risk' group, get the vaccine now - it's still not too late.
"The flu vaccine campaign has been a great success this year with very high uptake rates, but there are still some people who have not been vaccinated and we would urge them to get the vaccine now. In particular, women who have become pregnant recently and may not have had the vaccine, should get the flu jab as soon as possible."
The PHA said the earlier that people get vaccinated, the better, as it takes the body about 10-14 days after the jab to develop antibodies.
These will then protect against the same or similar viruses if the body is exposed to them.
The vaccine contains three strains of the flu virus, which are considered the most likely to be circulating this winter, including the H1N1 (swine flu) virus.