Many attacks foiled says Owen Paterson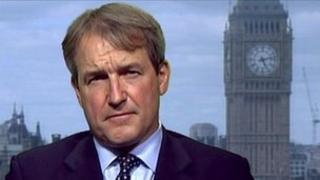 Security agencies in Northern Ireland and the Republic have foiled "many" potential terrorist attacks in the last six months, the NI secretary has said.
Owen Paterson told the House of Commons that there had been 13 attacks in Northern Ireland since August.
These included the attempted murder of a soldier in Belfast on 5 January.
Mr Paterson said the threat appeared to have "stabilised". He said an attack in Northern Ireland was "highly likely" with the threat rated at severe.
In contrast, the prospect of an atrocity on the UK mainland was strong, with experts placing the threat level in Britain as "substantial", he said.
Giving his six-monthly update to Parliament in a written statement, Mr Paterson said the 13 attacks included those on police officers as well as small bombs used to target a bank in Newry and explosives aimed at the City of Culture offices in Londonderry.