Queen's Irish visit 'affected me tremendously' says Sinn Fein MLA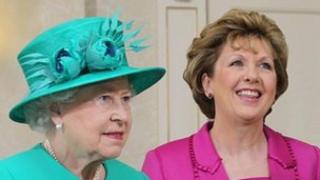 A Sinn Fein MLA has told the assembly that last year's visit of the Queen to Dublin had affected him "tremendously".
Mitchel McLaughlin paid tribute to the generosity of spirit of the Queen and former Irish President, Mary McAleese.
He was speaking on an Alliance motion calling on ministers to ensure that an upcoming decade of centenaries would be marked in an inclusive way.
These include the Ulster Covenant, the Easter Rising, the War of Independence and the establishment of NI.
Mr McLaughlin said his party would participate in events, including those reflecting the unionist tradition.
"We have a bit of unlearning to do," Mr McLaughlin said.
Proposing the motion, Chris Lyttle, Alliance Party, said the series of centenaries should allow people to "seek a basis for a more shared citizenship".
He urged ministers to work with the British and Irish governments to develop a co-ordinated approach to the commemorations.
The East Belfast MLA also drew attention to the "construction and tragic sinking" of the Titanic.
Stephen Moutray, DUP, said these were among the most pivotal events in the modern history of the UK and Ireland.
He said the Titanic centenary had "the potential to unite us all".
Mr Moutray said that when it came to 2021, unionists would not only be celebrating 100 years of Northern Ireland, but looking forward to another 100 years.
Conall McDevitt of the SDLP said the coming decade could "lay the foundations for a new Ireland or it can entrench the prejudice and ignorance which has grown up in the past century".
Ulster Unionist Sandra Overend said how the next 10 years were marked would be "absolutely vital to the tourism industry".
Responding to the debate, Enterprise Minister Arlene Foster said she was struck "by the many voices, of which none were discordant".
"These celebrations or commemorations can have the capacity, if not managed in a sensible and responsible way, to arouse passions, to cause anger, to provoke tension and indeed exacerbate community division," she said.
Mrs Foster said she and the culture minister would present a joint ministerial paper on how such events would be marked.