Dean Nesbitt fled bonfire scene 'in fear of his life'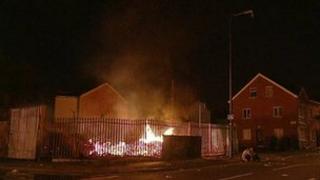 A driver who knocked a disabled woman from her wheelchair has claimed he was fleeing a mob in fear of his life.
Dean Nesbitt, 31, from Carn Rise, in Newtonabbey, denies causing grievous bodily injury by dangerous driving.
The incident occurred on Belfast's Donegall Road on 12 July 2010.
Brenda Henning suffered a broken leg after a car hit into her as it sped from the bonfire at the rear entrance to the City Hospital.
Giving evidence to Belfast Crown Court on his own behalf, Mr Nesbitt said that as the mob surrounded his car at an eleventh night bonfire, he believed "if they get me out of the car I would be killed."
On Monday, Mr Nesbitt told the court he had spent the day at an uncle's house on Sandy Row with his seven-months pregnant, Catholic girlfriend who wanted to see a bonfire as she had never been before.
After she suffered stomach pains, her father came to get her leaving the car behind and Mr Nesbitt claimed that fearing for the well-being of her and the unborn child, he "took a chance" and drove it despite knowing that he had been disqualified for not having insurance.
The court heard that as he approached the site of the bonfire, "the car was surrounded by a mob of people" with two men on the bonnet.
Mr Nesbitt claimed some of the crowd were shouting sectarian abuse and threatening to burn the car with him inside it, adding that he put his window down to shout that he was a Protestant.
He further claimed that as he sat surrounded in the car, he remembered seeing footage when he was around 10-years-old of two soldiers being dragged from a car and killed after they got caught up in a west Belfast funeral.
"I thought that was going to happen to me," claimed Mr Nesbitt who added that at first, he edged forward slowly and then accelerated in case the car was surrounded again.
The case continues.