Convicted killer Seamus Mullan 'ran cigarette racket'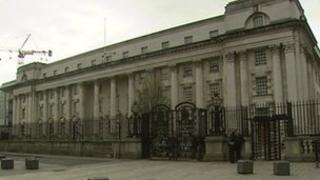 A man convicted of killing a police officer operated a major cigarette smuggling racket after his release from jail, it was claimed in the High Court.
Seamus Mullan also allegedly used mortgage fraud to buy two houses in Feeny, County Londonderry.
The Serious Organised Crime Agency (Soca) is seeking to confiscate the properties and a bank account, claiming they are the proceeds of crime.
It is applying for a civil recovery order.
The case got under way following a failed attempt to have the civil case dismissed.
Mullan's lawyer had claimed he was unable to give proper instructions due to a head injury suffered on his farm in 2008.
The 57-year-old, formerly of Lisnascreghog Road, Garvagh, was released from prison 10 years earlier under the Good Friday Agreement.
He had been jailed for the murder of Willis Agnew, an off-duty RUC officer shot dead by the IRA in June 1985.
The court heard Mullan has allegedly since become involved in large-scale distribution of counterfeit and contraband tobacco.
His suspected activities have gained him the nickname "the fag man", according to counsel for Soca.
Mr Justice Treacy was told he is also sometimes known as James Mullan and Seamus McCool.
'Major racket'
The barrister said: "The evidence will demonstrate Mr Mullan is an integral part of a major cigarette smuggling racket."
It was alleged that between 1998 and 2005 Mullan declared no income, claiming incapacity benefits.
"The agency's investigation has produced evidence of what might be characterised as a lawless lifestyle," the barrister contended.
"Two properties were acquired by Mr Mullan (using) mortgage fraud, rendering the property directly recoverable on that basis alone."
He added that Mullan, who served another prison sentence for blackmail, later declared annual earnings of around £6,000 for two years running.
Details of a cigarette seizure at his farm in 2003 were outlined in court, with Mullan telling police at the time he knew nothing about the haul.
He was also said to be unable to explain diaries found at the property which contained a series of apparent references to quantities of different cigarette brands and cash amounts.
Another entry in the journals detailed apparent trading in shirts, tracksuits, jeans and other clothing.
It was set out how 30,000 contraband cigarettes were seized from his van after it was stopped in 2004, resulting in a restraint order being imposed in criminal proceedings.
The case continues.