Major dismissed for 'cavalier attitude' to top secret papers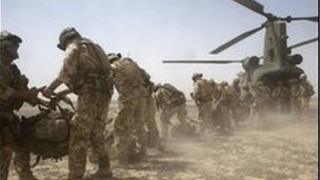 A major, awarded the Military Cross for bravery in Afghanistan, has been dismissed from the Army for keeping top secret documents at his home.
Robert Armstrong, 38, of the Royal Artillery, received a one-year prison sentence, suspended for two years, at Colchester Military Court in Essex.
Armstrong's quarters in Lisburn, Northern Ireland, were searched three years ago.
It followed allegations that his bravery may have been exaggerated.
Almost 200 sensitive electronic files were found, along with ammunition and an inoperable pistol.
The judge told Colchester Military Court on Monday that Armstrong had taken a "cavalier attitude" to handling dangerous material.
He said the publication of the documents could have caused widespread loss of life.
He dismissed Armstrong from the Army, with immediate effect.