Elderly brothers robbed by masked gang near Newry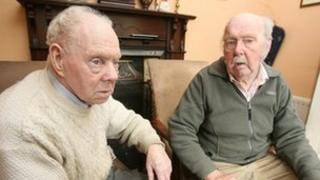 A niece of brothers in their 80s, whose home was broken into for the third time in a year, has said she "doesn't think they can take much more".
A gang of masked men armed with iron bars confronted Jimmy and Patsy Murtagh at their house at Lurganare Cross near Newry at teatime on Monday.
They ransacked bedrooms and when one of the men intervened he was struck across the face.
The robbers made off with the elderly men's pensions.
Both brothers were taken to hospital with minor injuries.
Their niece Angela said she was very upset when she saw them on Monday night.
"They were very, very shaken," she said.
"I am concerned about their emotional, physical and mental health at this stage. I don't think they can take much more."
Phone taken away
The intruders took away the brothers' telephone headset as they left, meaning they were unable to phone for help.
Bewildered and confused they knocked on neighbours' doors to tell them about the attack
Jimmy Murtagh, 83, said the intruders initially claimed to be dissident republicans and said they weren't there to steal money.
He said he knew this was a lie to try to calm them down, but instead the two brothers tried to fight back.
"This boy came up with a bar and stood there and Patsy made for him and kicked out at him and put his hands up to his face to pull the balaclava off him and he pushed him back into the chair there. Then he pushed me back," Jimmy said.
"I sensed I was going to get an awful bad doing if I had done anything more."
The Mayor of Newry, Charlie Casey, said he had "particular concerns about the protection of the elderly".
"Despite being robbed twice, this family was not considered eligible to have extra security fittings installed at their home," he said.
"I urge the Housing Executive to target resources as a matter of urgency into placing additional security on the homes of our elderly.
"Recently it has been revealed that the Housing Executive is facing an underspend and will be returning many millions of pounds.
"Surely they could put some of this money into installing security lighting and systems on homes."