What the papers say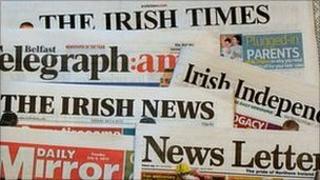 Journalist Fionola Meredith takes a look at what is making the headlines in Tuesday's newspapers.
That Oscar win by Terry George gets plenty of coverage. The Belfast-born director is pictured in the Belfast Telegraph clutching his daughter Oorlagh with one arm, his Oscar with the other, which he won for his short film The Shore.
In its editorial, theBelfast Telegraphlikens Terry George's journey from republican prisoner to Oscar glory to the transformation of Northern Ireland itself. It says the journey to peace here may read like a film script to outsiders but it really happened and we all played a part in it.
Meanwhile, theIrish Newssays the real star of the show was the County Down village of Killough, where the film was set. It says that if an academy award can go there, a new influx of tourists cannot be far behind.
Despite the positive words, the past is never far away in Northern Ireland, and the Irish News turns its attention once more to how we deal with it, following Peter Robinson's warning against rewriting history.
Columnist Fionnuala O'Connor describes the warning as "a predictably one-sided bash at the subject". What we are confronted with is not so much a rewriting of history, says the paper, as a facing up to history by all those centrally involved, in an open, honest and truthful way. And on the evidence to date, we're no closer to achieving that goal.
The Oscars are much to the fore in the cross-channel papers too. TheTimesrefers to to the "Gallic sweep" of the Academy Awards, delivered courtesy of The Artist, the first silent film to take Best Picture in 83 years.
Apart from that, it's all about the gowns and the gossip, as theDaily Mirrorputs it. The Daily Mail is tut-tutting about what it calls Angelina Jolie's "over-exposed right leg", but that doesn't stop it printing a big front page picture of the star in the revealing dress in question. She's been "leg-bombing" the Oscars, according to an equally excitedSun.
Elsewhere, the front page focus returns to the Leveson Inquiry. As theIndependentreports, senior executives at the Sun were accused on Monday of spinning a web of corruption across public life in Britain, channelling hundreds of thousands of pounds towards a network of crooked police and officials.
Same story in theGuardian- the police officer leading the investigation into bribery and hacking at News International, Sue Akers, alleged that "corrupted officials" created a "culture of illegal payments".
And the Independent has been speaking exclusively to Charlotte Church, who has just accepted £600,000 from News International to bring her phone-hacking case to a close. She tells the paper how the hacking alienated her friends, brought her career to a standstill and almost drove her mother to suicide.
And finally, a dire warning about pizza in theIrish Times. Don't eat a 12-inch one on your own. That is according to Irish health experts, who say that a 12-inch deep pan Hawaiian pizza could contain as many as 3591 calories - that's almost two days' worth for the average adult.
Apparently 40% of us eat pizza at least once a week, so it has a real impact. And don't be thinking you are fine with those thin base varieties. It is still likely to contain more than 100% of the saturated fat we are supposed to consume on a daily basis.
And that is before you add in the lovely buttery garlic bread on the side.