Remains believed to be David Colhoun missing for 10 months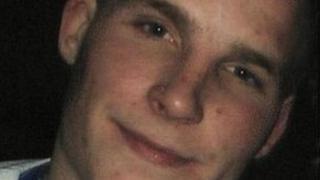 Human remains founds in Lifford, County Donegal, are believed to be those of 22-year-old David Colhoun.
He went missing 10 months ago, after running off during a transfer between police cars.
The remains were found by a digger driver at an area called Islandmore on the River Finn shortly after 09:00 GMT
While it could take weeks to officially identify the body, David's father Joseph said he felt sure it was his son.
"I feel sad but relieved that we are going to get closure after 10 months," he said.
"For 16 weeks, we were up and down on the water searching morning, noon and night.
"At least now I am going to bury him along with his mother."
Superintendent Vincent O'Brien said gardai could not confirm if the remains were those of Mr Colhoun.
He said a post-mortem examination and DNA analysis had to be completed which could take some time.
Mr Colhoun went missing from police custody in Strabane, County Tyrone, and an extensive search of the river and surrounding area was carried out.