Mother jailed for Belfast lorry rampage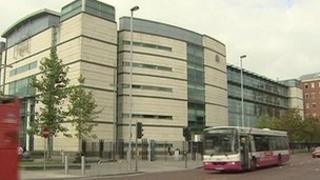 A mother-of-five who went on a drink-driving rampage in a 14.5 tonne lorry has been jailed for nine months and banned from driving for three years.
Susan McKay, 41, from Sugarfield Street in Belfast, will serve a further 18 months on supervised parole.
A Belfast Crown Court judge said the November 2010 incident represented "about as bad a piece of dangerous driving as I have ever seen".
He said it was fortunate that no-one had been killed or injured.
McKay - who was more than twice over the legal drink drive limit, when the incident happened - was told that had this happened she would have faced a 10-year prison term.
The court heard that during the incident she drove at speeds up to 60 mph in a built-up 30 mph zone, crashed into six cars, twice drove on the wrong side of the road, ran through a red light, caused gathered pedestrians to scatter for their lives and ended up crashing into a telegraph pole.
McKay was pulled from the cab of the lorry by members of the public and later pleaded guilty to drink driving and dangerous driving on roads between her home in Sugarfield Street in the Shankill area of west Belfast and the Albertbridge Road in the east of the city.
'Swerved all over place'
At one stage witnesses told police they saw steam from the lorry's engine and that despite stalling a number of times, McKay restarted the engine and ploughed on, rear-ending one car and was seen "swerving all over the place".
Defence lawyer Richard McConkey had urged the judge not to jail McKay as to do so would cause hardship to her husband and five children.
However, Judge Patrick Lynch said he was less than impressed with the attitude McKay had adopted to the offences, revealed that probation assessed her as a high likelihood of reoffending as there is a "limited acceptance of responsibility" and an "entrenched attitude" to her alcoholism and drinking.
"What I believe is that you find yourself in this position and feel sorry for yourself," said the judge.
He said while he had "no doubt" a jail term would have consequences for her family, "the court has to balance that against the offences and the outrage the public rightly have against drink driving and driving in the appalling manner that you did".