Ovarian cancer awareness campaign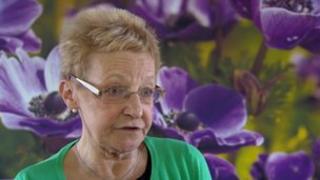 A charity has said to save lives from ovarian cancer women must stop feeling embarrassed about talking about their bodies.
Ovarian cancer kills around 120 women in Northern Ireland every year - that's about twice the number of road deaths.
Because the symptoms are often confused with non-life threatening conditions, diagnosis can come too late.
The symptoms can include extreme tiredness, back pain and feeling bloated.
Anita McGinn, who lives in Belfast, said her cancer went undetected for too long.
"A few years before I had been diagnosed with irritable bowel syndrome.
"Then the symptoms got much worse and they thought it was appendicitis, but after scans and tests they discovered it was a tumour on my ovary which turned out to be cancer."
Twenty years ago breast cancer was a taboo subject, but effective advertising has meant it is now openly discussed.
Maureen Clarke from theAngels of Hopecharity in Belfast said ovarian cancer needs a similar approach.
"I want the public to not be embarrassed about talking about gynaecological cancers," she said.
"We need to speak out more about ovarian.
"We speak about breasts, we speak about testicles, so why can't we speak about ovaries."
At this stage genetic testing is among the most effective tools for detecting the disease.