Court hears claim that Gary Haggarty entitled to police tapes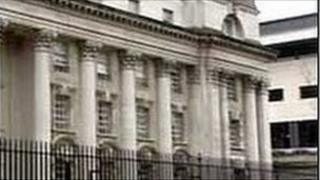 A former loyalist turned assisting offender is entitled to his police interview tapes, the High Court has heard.
Some of the material has already been disclosed to defendants in the UVF supergrass trial.
Lawyers for Gary Haggarty disputed that information compiled in a debriefing process was too sensitive to disclose.
They argued that he has more reason to protect it than the men acquitted of killing UDA leader Tommy English.
In that case,12 out of 13 defendants were clearedof all terrorist-related charges following a 71-day trial in Belfast, including the alleged former north Belfast UVF leader and police agent Mark Haddock.
Mr Haggarty, 39, from north Belfast, is currently on remand charged with the murder of taxi driver William Harbinson in May 1997.
The 39-year-old victim was handcuffed and beaten to death on the Mount Vernon estate.
Mr Haggarty is also accused of eight other offences, including membership of a proscribed organisation and directing a terrorist organisation.
Charges were brought against him following a new investigation by detectives from the Historical Enquiries Team (HET).
But in January 2010, he signed an agreement to become an assisting offender under the terms of the Serious Organised Crime and Police Act (SOCPA).
As part of that pact he has undergone a debriefing process involving regular phased interviews at a secret location in Britain.
Sensitivity
Mr Haggarty brought judicial review proceedings over the non-disclosure of the recordings, claiming his trial and any proceedings at which he appears as a prosecution witness could be delayed.
Some 30,000 pages of material and 760 interview tapes have been amassed from the interviews.
His barrister, Karen Quinlivan QC, claimed today that it was irrational of police to deny him the recordings.
She rejected any suggestion of a breach of confidence in providing information which her client first supplied to police.
Three judges hearing the challenge were told there was no explanation for denying Haggarty and his lawyer some of the material already made available at the UVF supergrass trial.
"It's been given to ten-plus defendants in the Haddock case," Ms Quinlivan said.
"The material given and its dissemination is much more vulnerable than if it was given exclusively to my client and his solicitor."
It was contended that the tapes can no longer be withheld due to the sensitivity of what they contain.
"That argument is taken away in that category of material because of the extent to which it has already been disseminated," Ms Quinlivan added.
Lord Chief Justice Sir Declan Morgan, Lord Justice Higgins and Mr Justice Treacy reserved their decision in the case.