Flood 'destroyed bomb evidence' Smithwick Tribunal told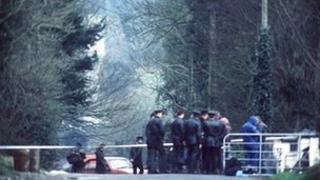 The Smithwick Tribunal has heard counsel for the PSNI ask Irish police to clarify details of a flood at Garda headquarters that may have damaged evidence from a bomb-making site.
The tribunal is investigated alleged collusion in the murder of two RUC men.
A 1500lb bomb was discovered in the site in Omeath, County Louth in August 1989.
A former Garda told the tribunal that fingerprints collected from the scene "may have been destroyed" in a flood.
Retired Detective Inspector John McGee gave evidence that at the time fingerprints collected from the site did not match a pre-computerised database of fingerprints of "subversives".
The tribunal previously heard evidence from Kevin Fulton, a former British agent undercover in the IRA, who said that he was present at the Omeath site with Patrick 'Mooch' Blair, a convicted IRA bomb-maker.
Mr Fulton said that after the site was raided, both men feared their fingerprints would be uncovered.
However, two days later Mr Fulton said that they were told that the "panic was over" and said he was told by a colleague in the IRA that "our friend" had removed fingerprints from the bomb.
Neither Mr Fulton or Blair, were arrested in connection with the Omeath bomb-making site.
The Garda had on file fingerprints of both men, following separate arrests in 1986 and 1989.
The tribunal heard that investigating gardai would have been advised "within a couple of days" if a match for fingerprint evidence had been confirmed.
"I have never known prints to deteriorate, they should still be viable," said Mr McGee.
"I am not in a position to say what happened to the case file, I was told recently that it may have been destroyed in a flood in the basement of the Garda technical bureau."
Counsel for the Garda Commissioner, Michael Durack, said he was trying to ascertain the details.
Counsel for the tribunal Mary Laverty said the commission "has been aware of this for a certain amount of weeks".
'Officer trusted'
The tribunal is investigating alleged Garda/IRA collusion in the murders of RUC officers Ch Supt Harry Breen and Supt Bob Buchanan in south Armagh in 1989.
Earlier, a former senior RUC officer told the tribunal that he trusted the retired Dundalk-based Garda sergeant Owen Corrigan "with his life".
Gerry McCann was a former detective inspector in Newry for 10 years.
He told the tribunal that he had nothing but admiration for Mr Corrigan and members of the Garda in Dundalk.
"I never heard any concerns about Owen Corrigan or heard any talk that lead me to think I needed to be careful about what I discussed with him," he said.
"There was suspicion of collusion between RUC and loyalist paramilitaries, I never heard anything that gave me concern about the Garda and the IRA."
Mr Corrigan is one of three former gardai under the spotlight at the Dublin tribunal.
Chief Supt Breen and Supt Buchanan died in an IRA ambush in south Armagh only minutes after leaving Dundalk Garda Station.
Mr Corrigan denies all allegations of collusion against him.
Mr McCann said he often discussed his travel routes south of the border with Mr Corrigan and took his advice.
"There were many times over the years when Owen Corrigan knew my travel plans and could, if he wanted, to set me or my colleagues up," he added.
"In the course of service I never had suspicions, had reason to, or had suspicions expressed to me about Owen Corrigan or any other gardai at Dundalk Garda Station."
Mr McCann, who had a role in the Narrow Water investigation, said he was "surprised" to hear evidence on Tuesday of a lack of Garda co-operation in the bomb attack.
"I can only speak about the relationship between police officers in Newry and Dundalk in the 1970s and 1980s and that relationship was second to none," he said
"I was surprised to hear there was any shadow of suspicion."
The tribunal has previously heard that Harry Breen had expressed concerns to Sgt Alan Mains about travelling to Dundalk because there was an IRA mole among the gardai.
"Where any concern came from I don't know," said McCann. "It is unbelievable that information was floating around that I was not aware of."