Cigarette vending machine ban comes into force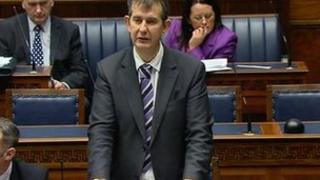 A ban on cigarette vending machines comes into force on Thursday as part of a new anti-smoking strategy from the Department of Health.
MLAs agreed the move during an assembly debate in January.
Health Minister Edwin Poots said it was an attempt to make it harder for those underage to buy tobacco.
"Around 14% of young people who smoke claim that they get cigarettes from the vending machines."
He added: "So it's clearly a source of concern to us that that was the case.
"And that's why the ban is coming into place.
"It will make it more difficult for people to smoke. We don't make any apologies for that. Smoking is really bad for people's health."
The ban is being introduced to drive down the number of children and young people who smoke by limiting their unsupervised access to the machines.
Vending machines will only be allowed behind the counter of pubs.
It is estimated that there are 1,800 tobacco vending machines in Northern Ireland.
Legislative controls on tobacco is the responsibility of district councils' environmental health officers.
England commenced its ban on sales of tobacco from vending machines from 1 October 2011.
Regulations have also been made in Wales to commence from 1 February 2012 and Scotland intends to follow suit shortly.
On Tuesday, the minister launched a new 10-year tobacco strategy for Northern Ireland.
It is aimed at preventing people from starting to smoke, reducing the number of smokers and protecting people from passive smoking.