PPS head says supergrass system 'will continue'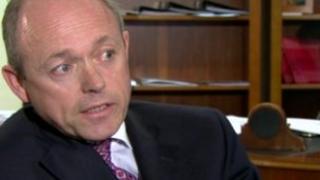 Northern Ireland's Director of Public Prosecutions has said so-called supergrass trials will continue.
The system was widely criticised after the acquittals last week of 12 men, nine of them charged with the murder of UDA leader Tommy English.
On Thursday, Barra McGrory QC defended the system and denied the verdicts were an embarrassment for the Public Prosecution Service and the police.
UVF members Robert and Ian Stewart had given evidence against 13 men.
The brothers each had their sentences reduced by 19 years after admitting involvement in the murder of Mr English and agreeing to give evidence against their alleged accomplices.
The trial judge, Mr Justice Gillen, said they lied to the police and the court.
But the director of the Public Prosecution Service, Barra McGrory, said the verdict had not discredited the legislation that made the trial possible.
Speaking to the BBC, he said: "Mr Justice Gillen was very careful to say that his concerns were with the particular witnesses in the particular circumstances of this case," he said.
However, the Sinn Fein MLA and former prisoner Raymond McCartney said he sees the supergrass system as a "flawed piece of legislation".
"I think you ask yourself the question would these two individuals be in the court if there was no promise of a lighter sentence," he said.
"That is the type of test that should be applied.
"This is supergrass trials mark two. Mark one failed and failed miserably and I think that this is also on course to fail.
"Not only fail, but it will also ensure that once again the justice system is being brought into disrepute."
DUP MLA Paul Givan, the chair of the justice committee, told Good Morning Ulster that supergrass evidence could be useful but called for "greater transparency" in the process.
"Given the judgement about these two individuals I don't believe the PPS has given the kind of scrutiny that Mr McGrory says the PPS is required to give, and because of that there has been a serious fall in the public confidence in the PPS to do its job," he said.
"I think the PPS do need to have a very high level of scrutiny whenever they decide to depend on these type of witnesses when they are going to bring forward a particular case.
"There's an issue about the accountability and governance of the PPS and there needs to be a greater transparency in how the organisation operates."
At least three other cases based on evidence from so-called assisting offenders are due to come to court this year.