Perfect match at Michael O'Neill's first game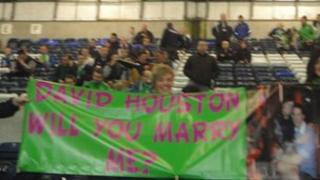 Michael O'Neill's reign as Northern Ireland manager may have got off to a poor start but for one fan Wednesday really was a night to remember.
Claudy man David Houston was watching the game at home when his girlfriend of two years turned his world upside down.
Lisa Britton was at Windsor Park and at half-time she seized her chance.
Knowing the date - 29 February - and that it is a woman's one chance to propose, she did just that in the most dramatic way possible.
The 26-year-old showed no trace of big match nerves as she marched confidently onto the pitch at half-time along with a banner and popped the question.
Back at home David was dumb struck and took what seemed like an age to phone her in Belfast.
"He was watching the game at home with a friend. His mate made sure he was there when I came on. He didn't have a clue," said Lisa.
"He phoned me after about four minutes and he said 'what are you at?'.
"I could hardly hear him. He said yes and I just squealed!
"He probably would have asked me eventually but I wasn't taking the chance."
But it wasn't a spur of the moment decision and David played a role in his own downfall, so to speak.
"I think it was fate. David got an extra ticket from his friend but he said to me to go because I had never been before. He used to be a season ticket holder," Lisa said.
"When I noticed the date I thought this is my chance'. I thought I'm going to go for this.
"I got in touch with the Irish Football Association and Sky and ordered the banner online. Everyone was very helpful."