McGeough murders 'drugs-related execution' says judge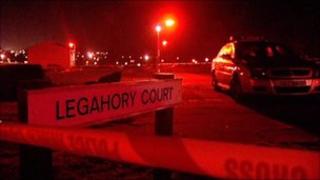 The killing of a Craigavon husband and wife had the hallmarks of a drugs-related execution, a judge has said.
Mr Justice McLaughlin's assessment of the shooting of Hugh and Jacqueline McGeough came as he refused bail to a man charged over the case.
Malcolm McKeown, 46, is accused of possessing a firearm and ammunition with intent.
The charge relates to the investigation into the double murder at the victims' Legahory Court home in March 2011.
Mrs McGeough, 44, was shot three times and her 56-year-old husband once.
It was alleged that they were involved in the drugs trade in the area.
Mr McKeown, from the Craigavon area but currently of no fixed address, was arrested and charged after a Colt revolver and two rounds of ammunition were discovered inside a plastic bag in Waringstown in July.
Forensic tests have confirmed it was the weapon used in the murders.
It was previously set out that the bullets were the same type of ammunition as those used in the shooting.
Mr McKeown's DNA is alleged to have been found on a misfired round in the bag with the gun.
But his legal team have raised issues over the murder weapon being contaminated by the DNA of a forensic science laboratory worker.
Defence barrister Neil Rafferty argued that tight precautions required in dealing with so-called low copy number samples were not adhered to.
Concerns were also raised over the delay in bringing the case against his client to trial.
Despite his contentions, Mr Justice McLaughlin ruled that Mr McKeown should be refused bail due to the risk of any re-offending.
The judge said: "It is a most serious case involving the murder of two people.
"Not a murder in the casual sense where people die when things get out of hand.
"We are dealing with what, on the face of it, could be an execution carried out... in connection with drugs disputes."
The judge held that the prima facie case against Mr McKeown justified him being kept in custody.